YOU CAN PURCHASE $1.50 DINNERS STARTER [ISSUE 1] PDF FILE HERE.
NOTE: IF YOU PURCHASE $1.50 DINNERS STARTER HERE - IT WILL TAKE 24 HOURS TO GAIN ACCESS TO PENINA.TV.
IF YOU WOULD LIKE INSTANT ACCESS TO THE BOOK PDFS & VIDEOS GUIDES[ONLINE MOBILE-FRIENDLY STEP-BY-STEP COOKING SCHOOL] PLEASE GO TO: http://penina.tv Note: PRICING AT PENINA.TV is in USD.
$1.50 Dinners - Starter
Welcome to the new and improved Freezer Meals Issue 1 - $1.50 Dinners STARTER. This little gem is now packed with amazing savings. But that's not all. The budget 36 dinners are not the only magic on the menu.
You'll also get weekday breakfasts, lunches, snacks and even delicious desserts sorted. There's a total of 439 serves included and each serve is only $0.47c. Yes, you and your family can eat well for an entire five weeks (36 days). You'll even graduate at Penina.TV. $1.50 Dinners has transformed into a mobile-friendly multimedia online course. Enjoy a final fabulous happy 'graduation day and meal' on Day 36.
Oh, did I mention you can do all your grocery shopping now for the piddly price of just $205? WOW!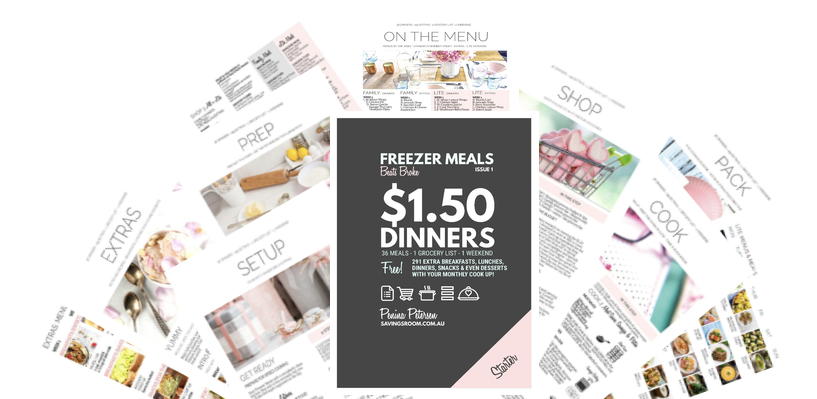 ---
AMAZING SAVINGS
Dinners now cost just $0.84c a serve.
Free extras: Get 291 breakfasts, lunches, snacks, (extra dinners) and desserts.
Extras are included in the $1.50 Dinners price.Yep, they're essentially free!
A total of 439 serves and drumroll...for the cut price of just $0.47c a serve. WOW!
An extra week's worth of dinners made from leftovers.
Save more time, money and energy NOT doing a big shop for five weeks to come.